Some college friends and i took time out to visit our friend Gladys in Tagbilaran, Bohol and had a well deserved break from it all. We were "fortunate" enough not to be able to get promo tickets direct to Tagbilaran so we had a nice side trip to Cebu as well.


A lot of nice things happened and i could go on and on but these were some of the lessons i have learned in the four day vacation i had recently.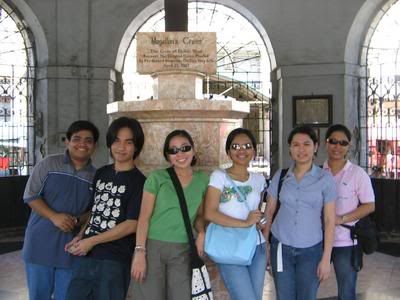 1. Casa Gorordo, Cebu City: They say that "to try hard, is the statement of a loser and to do it, is the statement of a winner." This statement does not always apply.


You see, sometimes, we really sacrifice and actually suffer to achieve something we don't have yet and in the end we decide anyway not to get it, even when we are there already.


Since, we were there amidst the heat of the Cebu sun, the hustle and bustle of people and cars and the business (busy not biz) of the city, we decided to postpone our ferry trip to Tagbilaran to late afternoon so we can explore Cebu a bit.


Armed with nil Cebuano literacy, a nice blue map of the city and a crash orientation on the jeepney system, which up to now I still don't really comprehend, we commuted together to see some of the tourist spots listed on the map.


One of these sites is Casa Gorordo. By that time, we were already tired from walking several blocks to and from Sto. Nino Church to the nearby Church, which was closed, by the way. We took another number coded jeep and either the driver or the other passengers mistook our questions and forced us to get down Gorordo Avenue and not the museum. In other words, we got lost. This is not new to me, eh. So we walked and walked on a frying pan until a friendly lady from a company i unfortunately cannot remember, invited us inside their air conditioned office to rest and wait for them to realize where we were going.


They let us take another jeepney and from the next stop we finally found our way to this quite obscure museum with near "being lost" instances here and there.


All sweaty and tired, we got inside the compound and found out there was a 40 peso entrance fee to look inside the two story house converted into a museum. After long walks and two jeepney rides, guess what, we decided not to go in, because of a 40 peso fee.


No, it's not that we didn't have money. Yeah, we saved 40 by not going in, but either it wasn't worth it to shell out 40 bucks to see it or we were too tired and just wanted to seat outside and get a whiff of the Cebu air while we keep still for a few minutes.


This brings me to my point. We walked far distances and got lost along the way but when we were finally there at the now famous among our group, Casa Gorordo, we didn't see it worth to do what we initially tried to do - after all the difficulty.


In real life, sometimes, we also do things and suffer and manage all the difficulty and in the end, take a pass on what we initially wanted to do. In the end, it is not the final goal that is important, but rather the long process that sticks into our mind.


2. History: Knowing where you came from will help you deal with where you are going.


Magellan's cross, the site of the Blood Compact. These places are marked with events that shaped our lives as we have it now. Yet, we don't really care that much.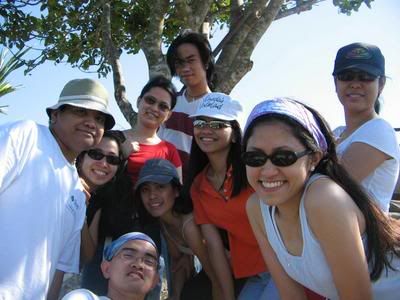 I may be generalizing, but personally, what does Magellan's Cross or the Blood Compact mean to me? Yes, i know their contributions to what i am enjoying now as a Filipino but the heritage sites are mere places that i want as background for pictures i'll print for my photo album, to say i was there.


It was 2001 when i read and commented on an Inquirer article about foregoing subjects including history so that elementary education can concentrate on more important things like English and Math. However, i disagree very much that History is not an important matter. I recognize very well what a better person i could be had i mastered Philippine, Asian and World History way back. I could have better understood things that are happening around me. I could have appreciated more, what this so called democracy is worth and why there's reason to hope amidst all of what is happening.


3. Chocolate Hills and the Tarsier: Having a lot of good things at hand does not translate to a bright future.


The Philippines is so blessed with a lot of good things, not found anywhere in the world. Our tropical climate, our forests, our species, our agricultural products, our people. Why are we so left behind? If the whole of Mindanao can supply rice to the whole nation, why are we not producing what our fertile lands can potentially produce. Why are rich companies raking in huge profits while the expanse of our lands can not even produce enough for our people? Why?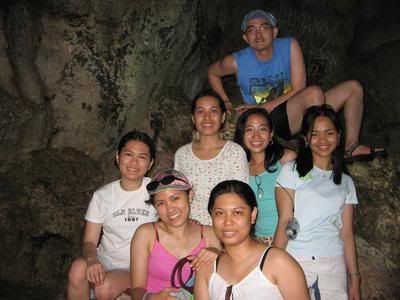 We blame a lot on corruption, on mismanagement and yes, they are in fact real and causing this misery. However, it's not just the government that is to be blamed. The blame goes to the people as well, and equally the cause of all this misery. Most Filipinos don't have the discipline worthy of being blessed with good things. Peeing everywhere, throwing trash all around, quarrying two of the Chocolate Hills, i mean is this the kind of society that deserves a good life? I am not saying that everyone is guilty but hey, a very clean plaza after a late night public affair, will turn into a litter of empty chip packages and softdrink cans and barbeque sticks. That's a big reality we have to face.


4. Loboc River Cruise: The environment, in its 'naturalness' brings comfort and peace of mind.


Here, nature shouted and invited us in experiencing what it has to offer. All of us were set on not getting wet in this part of our trip but the raging waterfalls, the calm river, the fresh air and the calm greens around us sucked us into a moment of exhilirating peace and a well deserved pause in the stress of carrying out a well planned schedule.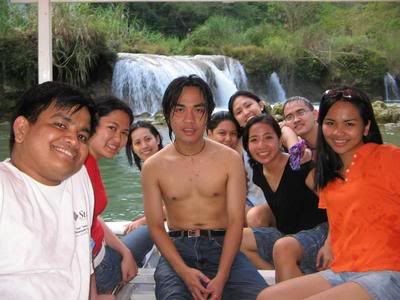 I would have gotten wet under the flowing water but regretfully i cowered because i was afraid i will get cold. Yes, very lame but that's me. I hope someday, i can go back and do what i really wanted.


5. Friends: Friends are people you may have lost touch with but when you get back together, everything still falls back into place.


I am so happy and blessed to have friends i am so comfortable with. I am happy to have people around me who experience the same stuff that i go through, who think about silly thoughts like i do, who laugh at things i find funny, who know when something is a joke and when something is not.


Sometimes, i get to belong to a group who don't really get me as i want to be understood even if i deal with them very often. I talk to people who take offense at a slightest thing, even if you are completely ignorant it ever happened.


I never really thought about it but in this world, there are really people out there who you click with and you choose to click with. There are people who love you and understand you and are concerned about you. There are people who think on the same wavelength, whose interests are the same as yours.


The four day experience was great not because of the new things i saw and the new places i went to, although, they are major pluses, but because of the company i spent it with.


Archie, Bimbo, Gladys, Ian, Kitkit, Louddie, Jojo, Joyce and Myra, in alphabetical order, i hope we get to enjoy one such vacation again. Thank you.


6. Memory: Pictures are worth a thousand words. Memories are worth a million.


I excitedly documented the first three days with pictures and yeah, did i have great and artistic shots. Cebu, Heritage of Cebu, Magellan's cross, the Churches, the airport, Bohol, the site of the blood compact, the python in captivity, the Chocolate Hills, the water falls, the cruise, the tarsiers. Everything got lost when a Windows XP computer hang on me inside an internet cafe somewhere in Bohol.


Yes, all of it got lost in an instant and i am left with my usually faulty memory to document the whole trip. I am counting on Myra to upload all the files in her compact memory that starts with a DSC.


I was so so so so so devastated. It's like i was in cloud nine and pfft, everything was gone. That's just how i am and it's bad. I get to be miserable and not look at the bright side of things.


Anyway, taken altogether, it was indeed one hell of a trip. I loved it.