This may be the most 'emo' entry of all.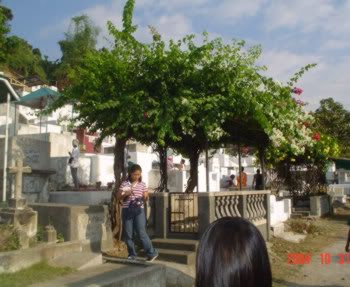 Here lies may late dad. This is in Caba Cemetery. My sister is the girl in the picture. If you notice, there's a similar structure behind it but of yellow bells and that's my cousin Cheryll's grave.


I know it is quite futile to go there and reminisce those days when he was still here but I do just that. I sit there alone and watch the sunset and rub it in - that I really miss him.


I miss the dad I once watched movies with. I miss the person who took me from La Union to Cubao or Pasay just to watch Purefoods TJ Hotdogs in the PBA finals and the guy who waits outside the Araneta Coliseum while I line up to get Alvin Patrimonio's autograph. I miss the father who teases me with my crushes. I miss the person I was afraid of and the person who gets mad when I don't kiss him before going somewhere. How I miss Papa, who believed in me more than anyone else has.


I miss the man who gets mad very easily that is why everyone is afraid of him, that is, when he had a glass of a hard drink or two. I miss the uncle who loves my little cousins and 'borrows' them from their parents for a whole day to baby sit. I miss the nephew or the cousin who lends to his relatives even if he himself has only a few. I miss the strict father who reminds my friends that it's already late when they're in our house.


I miss him, everything good and bad about him.


Losing someone is so difficult, much less your father, whom you thought would be there to see you achieve something after all the sacrifices he has done. What does he want more than seeing that I am happy and contented with what I have become?


I am sure he is happy for me yet I am actually not in that place that I think he has expected me to be. That is why I'm making several changes in my life. Not that I make decisions for someone other than myself but I think I want what he wants for me as well.


Therefore, I am praying for God to bless me with wisdom so that I may choose the right things and may He bless me wherever His path takes me.


Someday, I will be back sitting under the bougainvilleas, watching the sunset and being proud to be my father's daughter and being sure it's what he dreamt of.