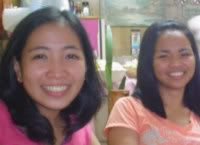 Well, these two gals got lost somewhere in Cubao.


Lost #1


Let me sidetrack a little and mention that i had quite some luck already that same morning. The moment i arrived in Quezon City last Saturday, i took the printed instructions of Joyce, and followed it to get me to the LRT station (which Roch describes as a place that seems not to be in this country). First, from the Partas station, i took a trike to the MRT (not to ride but to cross EDSA) then went down to Farmer's then to that memorable street in between Chowking and Jollibee. I love you Sabado, grr!


The sight of the two fastfood joints made me realize i needed to have some breakfast. I chose to have the latter's pancake meal. Well, the person at the counter offered me a peach mango pocket pie to get a free Philippine Star, so i grabbed it. It was a very good deal by the way until what happened to me later.


You see, i ordered hot chocolate with the meal. I never do! I only drink coffee or some cold juice with fastfood breakfast meals. When i had finished the pancakes and the pie, i was still reading the opinion page. Now, the usual clumsy me just tipped the plastic cup down and the murky mudlike hot chocolate spilled unto my pants, to my bag and to the edges of my pristine white shirt!


So i was there, and to my dismay it's like the other people never noticed. That meant, nobody helped among all the Jollibee crew! So i had to get up, all brown and dirty and asked the person at the counter for tissue. I was shocked but i was perfectly calm. I didn't even realize if the spilled drink was still hot because i was just feeling too embarassed. I am really clumsy and things like this have happened before. The security guard finally noticed and offered a small wet towel. I was really grateful. I didn't catch his name though.


Thus, i went to the rest room. I painstakingly rubbed clean my pants with the wet towel. I changed my shirt. It's good i brought an extra. I was all wet. I attempted to dry myself with the hand drier to no avail. Finally i just wrapped my jacket around my waist and went out. Nobody even gave me a second glance or it was a result of my wishful thinking.


Lost #2


Later that night, i had to go home. I went with Myra from the Santolan LRT station, where our friends left us, wondering if we'll ever make it to Cubao. During the ride to Santolan, all sorts of instructions care of Archie! were given out and by the time we were in Cubao, everything was a blur. The LRT was really nice by the way.


The instruction was for us not to cross Aurora boulevard but to go through the new mall. Another instruction was to just follow the other people. The mall area was closed but we walked through an air conditioned place which was part of the instruction.


We got down to the street level and found ourselves in the dungy street of Aurora and we knew we were at the wrong place. We were never to cross Aurora! But the mall area was closed, and we were stuck there and we crossed! That's where all the people were going. So we were able to cross alive and off we went... off we went... The side streets were getting darker and we were like walking forever and that street between Jollibee and Chowking never appeared.


And the syanas realized it! It was because we were going back to where we came from, we were going towards Katipunan on the other side of the street! We were walking away from EDSA at a street opposite Araneta Center! Golly! We realized our having no sense of direction. We went back, almost got hit by a jeepney. We walked again and again and again finally the streets were brighter. We made it to Farmers and we learned our lesson not to listen to Archie again. Haha! Kidding!


Found #1


I ate brunch with my college blockmates, Roch, Olai and Lorena at Manang's! Mahal na siya. A 12oz coke, a cup of rice and one order of inihaw costs 52 pesos already but it was still really good, I love the inihaw na sinawsaw sa suka at soy. The place has been improved and now you also have to clear your own table. I also learned that you can't pass through Katipunan at Gate 3 to Ateneo anymore. You have to walk through the overpass at Gate 2 1/2. McDo has improved a lot. It looked so slick and sosyal. They even had a person walking around with a push cart to offer water. Parang airplane! I forgot to take pictures!


It was nice seeing them again. It brings back memories of the hellish and at the same time happy days we had as MIS students. Until next year.:-)


Found #2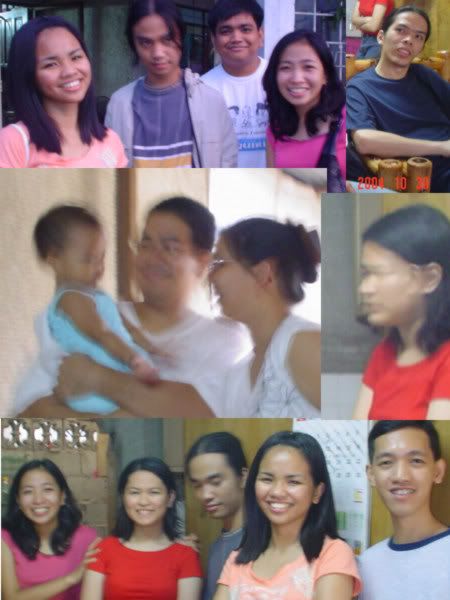 Afternoon was spent at Joyce's birthday party. I finally saw Julianne. Anlaki na niya! Inggit ako. Hehe. Then there was Jaypee, Ian, Bimbo, April, Kuya Aldrin and Kuya Romy. Ang aming once a year or once in two years na pagkikita. Hopefully, by next year, i'll be around already.