the following food in random order:


1. Baguio beans sauteed in soysauce with meat deeply cooked in its own fat


2. This dish out of pork with atsuete and made by Rivero's in San Fernando when i was still in grade school. It is sweet and salty and tastes just right. I've long been looking for a similar tasting meat viand! Oh please, may i chance upon one.


3. Blueberry cheese cake of Red Ribbon. Once i made one and all my money was sent directly to the trash.


4. Black forest of Red Ribbon (I'll never get tired of it) but Cafe Esperanza's version will do.


5. Tokneneng ba yon? It is this small egg covered with orange stuff and fried; introduced by Homer and i loved it although i was afraid i'd get Hepatitis or something. I need the vaccines! I hope to get shots so i can enjoy fishballs and the like. It's been years since i last planned!


6. KFC Funshots - I love all flavors. It reminds me of flavored french fries.


7. Sizzling sisig of Ken Afford with egg on top, although once we saw a giant cockroach inside the restaurant, while walking past it at night.


8. Inihaw or Breaded Pork Chop from Manang's - super with its yummy sawsawan made of soy sauce and vinegar. Quality and affordable and the best there is.


9. Japanese buffet at Oasis - but i can't go there maybe in two years or so. If you have read my previous posts, you'll know why.


10. SR Thai's vegetable rice and bagoong rice - the only restaurant where i enjoy eating Thai food because their's are not so spicy.


Oh well, at least i don't eat too much and my arms will again look like this. (But it's happening again!)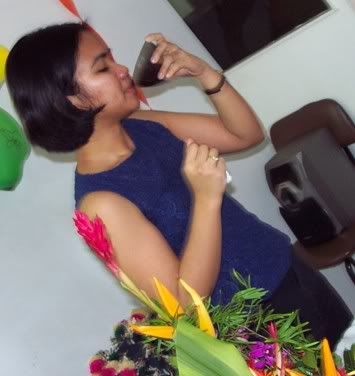 And look at this cool picture of my favorite Philosophy teacher, Padre Ferriols, known for his own philosophy of 'Meron'. Hindi ko alam if this is a real Globe ad or not.